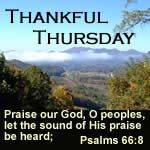 Click on the above link to share your gratitudes at Greg's General Store.
Lots of little things to be grateful for this week....
The beginning of
The Joy of Love
, a free one-month online photography class. It's not too late to sign up!
Work being canceled on Tuesday. We were covered in ice! I had a nice day to spend at home with my girls.
Scrapbooking with friends over the weekend. I got all of my Christmas 2010 photos into an album! I am using a
slip-in style album
to make the process easier.
"Pancake and bacon" Monday. Justin cooks, so I get a break, plus it's just yummy.
Spending time with my brother and nieces.
Relaxed schedule at work this week. Lately I have been insanely busy, so a break in the action is nice.
Feeling caught up on laundry and other chores. The
family chore chart
certainly is helping!
I challenge you this week to find one thing to be thankful for each day...guaranteed to change your attitude and perspective!