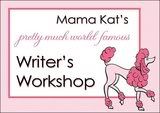 Wow. I have not done a Mama Kat workshop, in like, FOREVER.
I really liked some of her prompts this week, because they helped me think about some little, yet significant moments in my life. The STUFF that makes life GOOD. So here goes...
The last time my heart melted was because...my oldest daughter showed me how much she loves me and is thinking of me in that little sweet heart of hers.
It was Christmas morning. The kids were giddily opening their stockings when someone realized that Santa had "forgotten" to put anything in my stocking. Oops. While Vivian, my youngest, was feeling sorry for me, Morgan said, "Mommy, there might be something in there. Look!"
To humor her, I up-ended the stocking. Into my lap fell a tiny pink crystal heart. My heart melted.
"Morgan, did you put this in my stocking? When?"
She came over and gave me a hug. "I put it there the other day, so on Christmas you would find it and have something to remember how much I love you."
And that, people, is good stuff.