I am so excited and honored to be featured here at Reflections...on Living Creatively! I'm grateful to Bekah for giving me the opportunity to do my very first guest post!
Oh, now wherever shall I begin?
Perhaps introductions are in order?
I'm Jenn, and I'm the "bird" behind the creative living blog Rook No. 17. I draw on my experiences as a mother, chocolatier and pastry artist, teacher and lifelong crafter to share original crafts, recipes and ideas for making every day special. I hope you'll drop by some time and say 'hi'! You're sure to find something yummy, quirky, curious, crafty, or inspiring!
Today I'm pleased to share with you one of the Halloween crafts I put together for my "Virtual Halloween Open House" this year. It was inspired by my love for vintage toys and indulges my weakness for glitter!
This A-B-C block set is an inexpensive & versatile craft that you can adapt for other holidays and purposes. A pastel palette and some whimsical children's book illustrations would yield some charming decorations for a nursery! If black birds aren't your bag, you can top the blocks with any sort of vintage style Halloween knickknack to suit your taste.
HALLOWEEN ALPHABET BLOCKS
Materials:
3 2x2 Wood Blocks (purchased from craft store for approx. $1/ea)
3 Faux Crows (Dollar Tree Stores)
Printed Images (1.7x1.7) ~ I've included a free download below
Black Paint ~ I like DecoArt Americana "Black/Ebony"
Fine Sand Paper or sanding block
Matte Mod Podge
Glitter ~ I used PK Glitz "Glitter Glitz" in Black
Wooden Spools (salvage or craft store)
Mask download (see below)
Hat Band download (see below)
Scrap Paper or old book pages (for hat embellishment)
Hot glue gun
Step 1: With a piece of sand paper or a sanding pad, sand block to remove any rough surfaces/edges.
Step 2: Paint entire block. Dry.
Step 3: When block is dry, sand corners and edges to give an aged look.
Step 4: Apply Mod Podge to the back of printed image (free download below). Affix image to block. Dry. Repeat for all 6 sides. You may seal the blocks if you wish. I chose to leave mine unsealed because I felt that it was more consistent with the look of the vintage alphabet blocks I've seen in antique stores.
Step 5: Remove plastic legs and eyes from the bird. Didn't know you were going to be learning a little taxidermy today, did ya?
Step 6: Paint the spools black.
Step 7: Mod Podge the back side of the printed hat bands, then wrap around spools. Cut a small circle (a little less than the diameter of the top of the hat) out of scrap paper and affix with Mod Podge.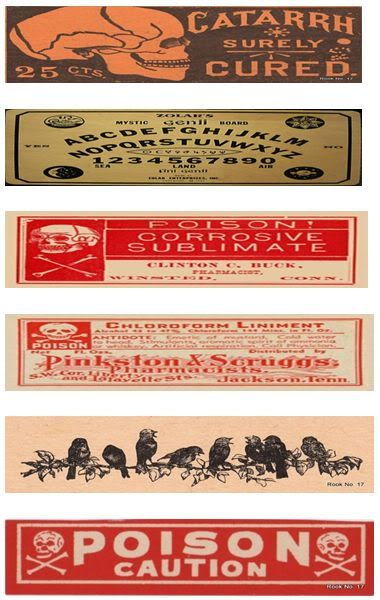 (Click the image above to download a printable .jpg)
Step 8: Using a hot glue gun, affix bird to the block and hat to the bird.
Step 9: Brush Mod Podge on to the head, back and wings of the bird (everywhere that there are feathers). Dust with black glitter.
Step 10: Cut out mask and attach with glue. I did not put the plastic eyes back in. The plastic seemed to take away from the vintage look of the piece.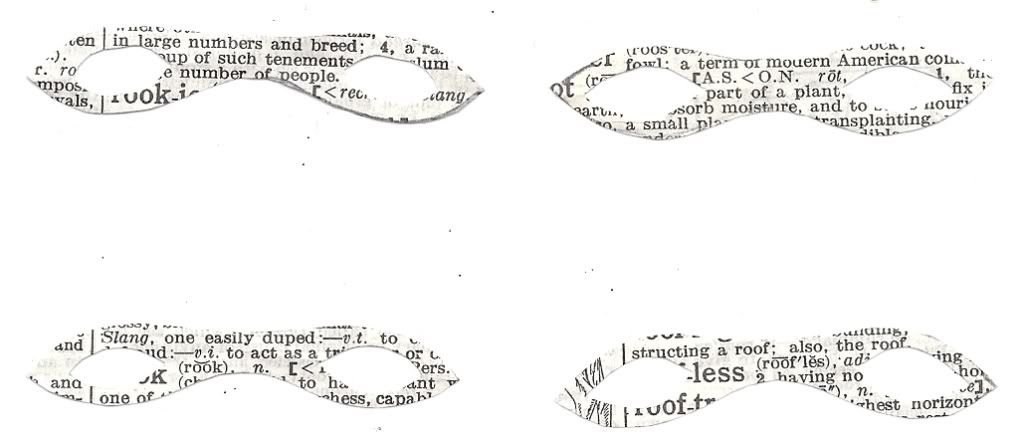 (Click the image above to get a printable jpg of the masks)
Here is a free download of images you can use for the blocks:
ABC Block Images